Selling steel cabinets, how did she do it for the customer t
Writer:Huadu Steel Furniture :2020-02-13 09:46 Browse:℃
I am Alba, the sales manager of Huadu Foreign Trade Department. Today, as soon as I walked into the company, I was surprised to notice that there was a beautiful bunch of beautiful Diana pink roses blooming on my desk. Colleagues smiled and puzzled me: "Yes. Andrew. "Oh, it turned out that my client, Andrew, who is far away from Hong Kong, sent a blessing to our cooperation, which made me very moved!
Andrew lives in Hong Kong and is a domestic agent, mainly exporting to India and Myanmar. We first met at the 2016 Autumn Fair, and the Andrew team took a fancy to our school bed product. He is very satisfied with the quality of the products, and has a good intention to order. He has conducted detailed consultation on the plates, specifications and customization of the products. I have answered them one by one and talked with him very well. When he left, Andrew took away some information such as the product catalog.
After the Canton Fair, I received an inquiry from Andrew and the client did not have much objection. Who ever thought that just when I thought there was no problem with this order, Andrew suddenly told me not to continue to cooperate! I was shocked and hurriedly asked why.
On the phone, Andrew was also frustrated and helpless. It turned out that his foreign customers temporarily canceled the order for some personal reasons, and our cooperation will stop. "Alba, I am really sorry. I thought I could work with you. I am really optimistic about your products. Now, can I still visit your factory?" Andrew asked me. "Of course!" I replied to the customer without any concern: "Whether we have the order or not, Huadu is always welcome to you."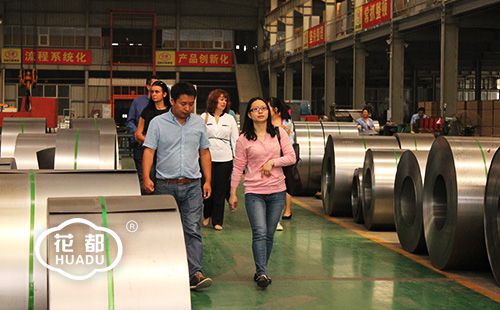 The next day, I personally greeted Andrew and gave a lecture throughout the workshop and the exhibition hall. At that time, the workshop had a large number of steel cabinets. I explained the materials and techniques to the Andrew. After that, I have been paying attention to Andrew's business developments, and Andrew has always click the like for my moments. He also knows that I like pink roses form it.
I naturally knew from the beginning that this list had no room for recovery, but I still didn't feel bored or perfunctory. Because of this customer, he loves our products and trusts our brand. I hope to let him know more about our product quality and factory strength. I believe that as long as our sincerity is sufficient and the quality is good, we and Andrew will have the opportunity to cooperate again!
Opportunities are always reserved for those who are prepared. At the beginning of March this year, my chance to cooperate with Andrew for the second time has come! Andrew has a new international order, and he think of me in first time. I have a steel cabinet with 2 containers in a order, because I have had deep contact and are very trusting friends. Our cooperation is smooth and unconventional!